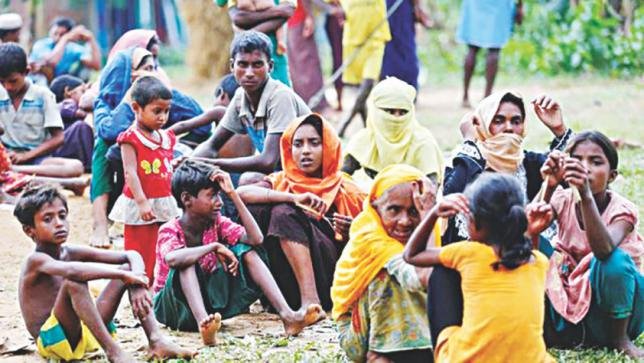 All I could see was a sea of people. Young, old and every age in between, standing in line for hours, to receive food.  What shocked me the most was the number of children. There were just so many of them. So many hungry eyes.
This was not only in the Kutupalong camp, but in Balukhali, Thangkhali, Hakimpara—in all of the camps and settlements. Instead of playing, or going to school, children were in line everywhere for food, house items or materials for them and their families' temporary shelter.

Manjur Morshed, a social services officer in the district of Cox's Bazar, revealed a depressing number; their team has identified 36,373 orphaned Rohingya children.
I thought about the incidents that made headlines in 2014 and 2015. Thousands of people had been trafficked to Malaysia and Thailand through the Bay of Bengal. Countless children had fallen victim to human trafficking.
The images of those mass graves in the jungles that bordered Malaysia and Thailand will haunt me forever. I couldn't help but think: Will these orphaned Rohingya children become victims to a second manmade tragedy now, just when they thought they had reached safe shores?
Over half a million Rohingyas have entered Bangladesh since August 25, 2017. Half of them have been identified as children.
When I see faces of the children, I think of my 11-month-old boy. I cannot stop imagining all the children here becoming victims of human trafficking and ending up floating in the sea instead of playing happily like my child.
I saw a four-year-old at the child-friendly space at Shamlapur. He had his one-year-old baby brother on his lap. The atrocities of humans have forced a four-year-old to become the sole guardian of his baby brother.
Journalism was my passion and profession before I joined BRAC. I covered trafficking and migration for twelve years. The Rohingya crisis is not unknown to me. I have also visited the Rakhine state of Myanmar where the people have been victims of these atrocities for a long time. I saw many Rohingyas with refugee cards, not only in the camps of Bangladesh, but also in Malaysia and Indonesia. They said if they were in Myanmar, they would surely face death. At least if they crossed the sea, they had a chance of surviving.
The right to life is a fundamental right for everyone, everywhere. Rohingyas have been deprived of their human rights in their own country for decades. They have been coming to Bangladesh as refugees since 1978.
BRAC's total coverage (based on sanitation) is 540,600 people with installation of 13,515 latrines as of December 17, 2017. BRAC ensures access to safe water for 340,612 people through 1,227 shallow tube wells, 50 deep tube wells and three ring wells. 3.250 bathing cubicles were set up especially for women and adolescent girls. BRAC's 10 primary health centres and 50 satellite clinics have provided 588,035 services. 71,631 cases of pneumonia and 74,814 cases of diarrhoea have been treated. BRAC has helped to deliver 363 babies so far. BRAC vaccinated 1,296 children during the immunisation campaign against diphtheria and brought 3,666 children to government vaccination centres. 200,425 blankets and 241,651 sets of clothes have been distributed, especially to children and elderly people for protection against cold weather. Some 34,108 children received recreational support through 206 child-friendly spaces.
These Myanmar nationals are occupying forest land and hilly areas by chopping down many trees for making their huts and collecting firewood for cooking. Rapid plantation of various trees is a primary requirement to restore the environment in the makeshift settlements as well as in the host communities. So, 3,047 trees have been planted by BRAC in makeshift settlements. 7,356 trees have been planted in host communities to contribute to environmental restoration. For securing food sources, 56,924 households in makeshift settlements have received vegetable seeds.
Among everything we are doing though, the child-friendly spaces touch my heart the most. The hundreds of children, across the settlements, playing and singing. Anyone can feel the happiness in their chorus even if you do not understand the Rakhine language.
In Shamlapur, I found eight-year-old Bahar, six-year-old Rahman, nine-year-old Jaber, and many other children. Every one of them was so happy to be in Bangladesh. I asked them why, and they said they knew Bangladeshi people to be good. They knew that they would not be killed here.
There are a number of paintings hung on the walls at the child-friendly spaces. The children have painted them. In one picture, I saw the cartoon character of Meena, but she was crying.
Cox's Bazar's social welfare officer, Manjur Morshed, said, "The department of social services has identified 36,373 orphaned Rohingya children. Among them, 65 percent have lost their fathers, and 22 percent have lost both their parents."
I do not know what the future holds for the 36,000 children, or the 350,000 children in total who are already here, or any of the Rohingyas fleeing to Cox's Bazar. But we have to figure it out. Otherwise we will all be responsible for this crime against humanity.
*News Searching By Thedailystar *