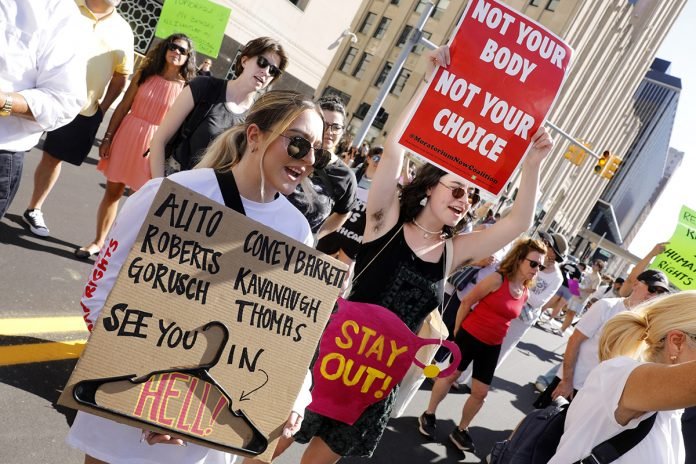 Abortion rights supporters prepared to fan out across America Saturday for a second day of protest against the Supreme Court's thunderbolt ruling, as state after conservative state moved swiftly to ban the procedure.
Deeply polarized America woke up to a new level of division: between states that will now or soon deny the right to abortion, enshrined for 50 years, and those that still allow it.

Protesters were expected to pour onto streets across the United States on Saturday as anger flared over the Supreme Court's decision to strike down the right to abortion.
Several right-leaning states imposed immediate bans on abortion after the court on Friday shredded five decades of constitutional protections for the procedure, prompting leaders around the world to voice concern.
The conservative-dominated court overturned the landmark 1973 "Roe v. Wade" decision enshrining a woman's right to an abortion, saying individual states could restrict or ban the procedure themselves.
"The Constitution does not confer a right to abortion," the court said in a 6-3 ruling on one of America's most bitterly divisive issues. "The authority to regulate abortion is returned to the people and their elected representatives."
A somber President Joe Biden called the ruling a "tragic error" stemming from "extreme ideology".
"The health and life of women in this nation are now at risk," Biden said, warning that other rights such as same-sex marriage and contraception could be threatened next.
The Democratic president urged Congress to restore abortion protections as federal law and said Roe would be "on the ballot" in November's midterm elections.
Criticism of the Supreme Court decision also came from abroad, including from US allies like Britain, whose Prime Minister Boris Johnson called it "a big step backwards."
Canada's leader Justin Trudeau said it was "horrific", and French President Emmanuel Macron voiced his "solidarity with women whose freedoms are today challenged."
Acknowledging the international concerns, US Secretary of State Antony Blinken insisted his department would "remain fully committed to helping provide access to reproductive health services and advancing reproductive rights around the world."