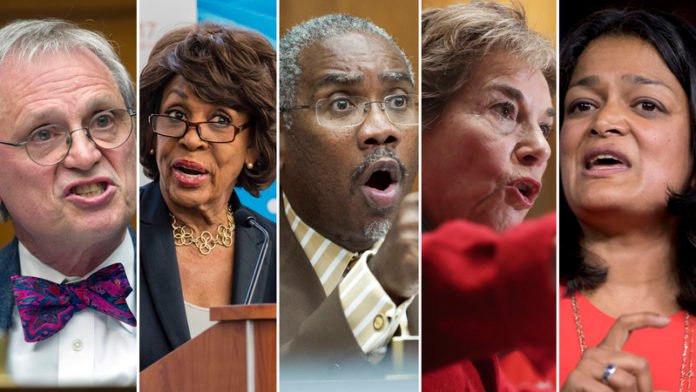 WASHINGTON —
A growing list of Democratic lawmakers have said they will not attend President Donald Trump's first State of the Union address on Tuesday.
House Democrats Rep. John Lewis, D-Ga., Rep. Maxine Waters, D-Calif., Rep. Frederica Wilson, D-Fla., and Rep. Pramila Jayapal, D-Wash., will not attend. Lewis and others referenced comments Trump allegedly made calling African nations "s—hole countries" and saying he preferred immigrants from countries like Norway.

ANNOUNCEMENT: With all the racism coming from the White House, I will NOT be attending @realDonaldTrump's State of the Union.

Instead, we'll focus on the State of OUR Union, our opposition to his agenda, and we will lift up a progressive and inclusive vision of our country. pic.twitter.com/dcAWMIkZZV

— Pramila Jayapal (@PramilaJayapal) January 15, 2018
Jayapal said those boycotting the event will hold their own State of Our Union address "to talk about our opposition to these racist policies that are being put out of the White House and to make sure that we put forward our own progressive vision of what our America looks like."
Rep. Barbara Lee, D-Calif., reportedly decided to skip the address even before the "s—hole countries" controversy erupted.
Rep. Gregory Meeks, D-NY, joined his boycotting colleagues Sunday, saying he would not attend after Trump was critical of rapper Jay-Z's comments about the impact that Trump's alleged 's—hole' comment had on black Americans.
I just announced on #PoliticsNation that I will NOT attend the State of the Union. Instead, I'll monitor this President from my office. His current comments about black unemployment, which remains unacceptably high, is just another sign that he doesn't get it.

— Gregory Meeks (@RepGregoryMeeks) January 28, 2018
"His current comments about black unemployment, which remains unacceptably high, is just another sign that he doesn't get it," Meeks tweeted.
Rep. Earl Blumenauer, D-Ore., will skip the address and send DACA recipient Aldo Solano in his place. Trump ended DACA last year and urged Congress to make the program permanent as a part of larger immigration reform.
Rather than listening to another destructive, divisive speech by Trump, I will not attend this year's annual address to Congress. Instead, like I did during his inauguration, I'll be working at home listening to Oregonians about what they think about the State of the Union! #SOTU

— Earl Blumenauer (@repblumenauer) January 5, 2018
"Trump's disastrous policies have destroyed lives and impact real people who call our country home. We can't let Aldo down," Blumenauer tweeted Sunday. Nearly two dozen of Blumenauer's colleagues who will attend have said they will bring DACA recipients as their invited guests.
Rep. Jan Schakowsky, D-Ill., announced Friday that she would skip the address.
"I refuse to normalize President Donald Trump and his loathsome language and actions. The American people have been subjected to a year of racist, erratic, and divisive behavior from their Commander in Chief, and I refuse to accept that as the new normal," she said in a release.
While not a lawmaker, Supreme Court Justice Ruth Bader Ginsburg will skip the address in favor of a previously scheduled stop on her speaking tour during the court's monthlong break, according to the Associated Press.
*News Searching By Abc7ny*