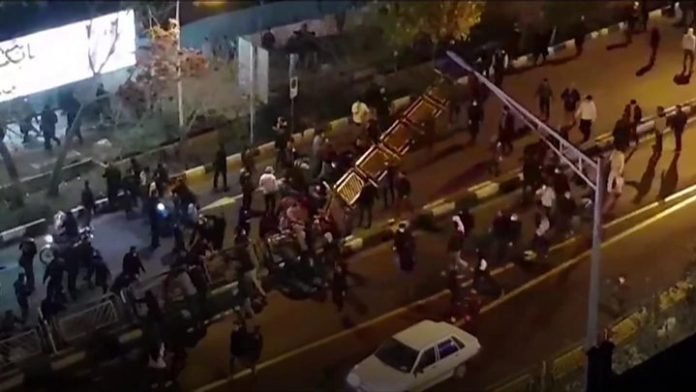 There are reports of protests breaking out in Iran for a fifth day, despite a statement from the president that the unrest "is nothing".
Anti-government chanting and burning cars were reported as night fell in the capital, Tehran, while police said an officer was killed in a central city.

President Hassan Rouhani said protests were an "opportunity, not a threat" but vowed to crack down on "lawbreakers".
The US meanwhile stepped up support for the protesters' "bold resistance".
The protests began last Thursday in the city of Mashhad, initially against price rises and corruption but now with wider anti-government sentiment.
Where is the violence happening?
The latest reports speak of a heavy police presence in the capital. The Mehr news agency reported a taxi being set alight. Police had used tear gas and water cannon the previous evening to quell a rally in Tehran's Engheleb Square.
State media were also quoting a police spokesman as saying that shots had been fired at police in Najafabad, near Isfahan in central Iran, killing one officer and wounding three.
Reuters news agency reported that a police station in the town of Qahderijan was partly set on fire amid clashes between security forces and protesters trying to occupy the building. Unconfirmed reports suggested several casualties, it added.
Social media postings spoke of fresh protests in Birjand in the east, Kermanshah in the west and Shadegan in the far south-west.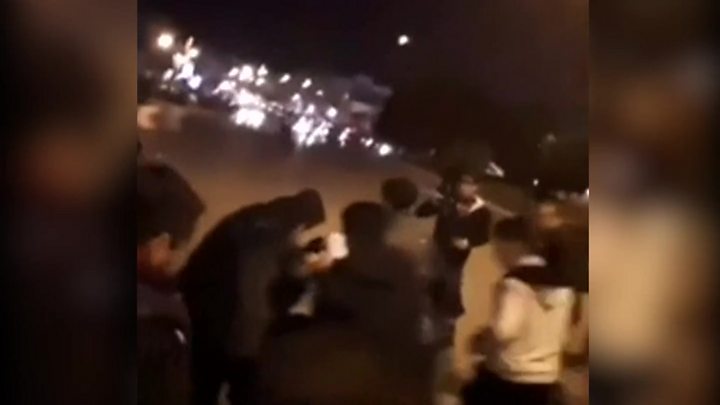 Initially, state TV said that 10 people had been killed overnight, but that figure was later raised to 13 by a regional governor:
Six died after shots were fired in the western town of Tuyserkan, 300km (185 miles) south-west of Tehran
Later, Hamadan province's governor told the ISNA agency that another three people had also been killed in the city
Two people died in the south-western town of Izeh, an official said
Two died in clashes in Dorud in Lorestan province
Two people also died in earlier violence.
What did the president say?
In a statement on the presidency website, Mr Rouhani sought to play down the violence.
He said: "This is nothing. Criticism and protest are an opportunity not a threat."
But he also vowed to act against "rioters and lawbreakers".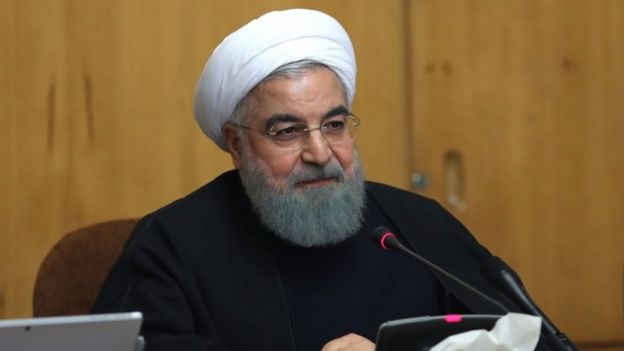 "Our nation will deal with this minority who chant slogans against the law and people's wishes, and insult the sanctities and values of the revolution," he said.
A later tweet appeared more conciliatory, saying that the government needed to pay attention to people's demands on livelihood issues and corruption.
Iran's Revolutionary Guards Corps (IRGC) has taken a tough line, warning anti-government protesters they will face the nation's "iron fist" if political unrest continues.
The IRGC is a powerful force with ties to the country's supreme leader, and is dedicated to preserving the country's Islamic system. Correspondents say it would be a significant escalation were they to become officially involved in policing the protests.
Judiciary Chief Ayatollah Sadeq Amoli-Larijani on Monday called for a crackdown on "rioters" and "vandals".
"Some individuals are exploiting the situation. This is wrong," he said.
Up to 400 people are reported to have been arrested in recent days.
What has the US said?
President Donald Trump stepped his war of words with Iran's leaders on Monday, posting a tweet saying the "great Iranian people have been repressed for many years. They are hungry for food and freedom".
He added in capital letters "TIME FOR CHANGE!"
Vice-President Mike Pence took an even stronger tone.
He tweeted: "The bold and growing resistance of the Iranian people today gives hope and faith to all who struggle for freedom and against tyranny. We must not and we will not let them down."
He spoke of the "shameful mistake" of not supporting previous Iranian protesters.
The Green Movement in 2009 saw millions of protesters dispute the election victory of incumbent president Mahmoud Ahmadinejad.
The protests were brutally suppressed, with at least 30 people killed and thousands arrested.
The latest US approach has infuriated Iran.
Mr Rouhani described the US president as an "enemy of the Iranian nation from the top of his head to his very toes".
The EU, meanwhile, called on Iran to guarantee its citizens' right to peaceful protest, saying it had been in touch with Iranian authorities and was monitoring the situation.
Meanwhile, UK Foreign Secretary Boris Johnson said that "the UK is watching events in Iran closely".
"We believe that there should be meaningful debate about the legitimate and important issues the protesters are raising and we look to the Iranian authorities to permit this", he said.
Where will the protests lead?
Analysis by Kasra Naji, BBC Persian
There is widespread and seething discontent in Iran where repression is pervasive and economic hardship is getting worse – one BBC Persian investigation has found that on average Iranians have become 15% poorer in the past 10 years.
Protests have remained confined to relatively small pockets of mostly young male demonstrators who are demanding the overthrow of the clerical regime.
They have spread to small towns throughout the country and have the potential to grow in size.
But there is no obvious leadership. Opposition figures have long been silenced or sent into exile.
Some protesters have been calling for the return of the monarchy and the former shah's son, Reza Pahlavi, who lives in exile in the United States, has issued a statement supporting the demonstrations. But there are signs that he is as much in the dark about where these protests are going as anyone else.
BBC Persian, which broadcasts on TV, on radio and online from London, is banned in Iran – where staff and their families routinely face harassment and questioning from the authorities.
*News Searching By BBC*