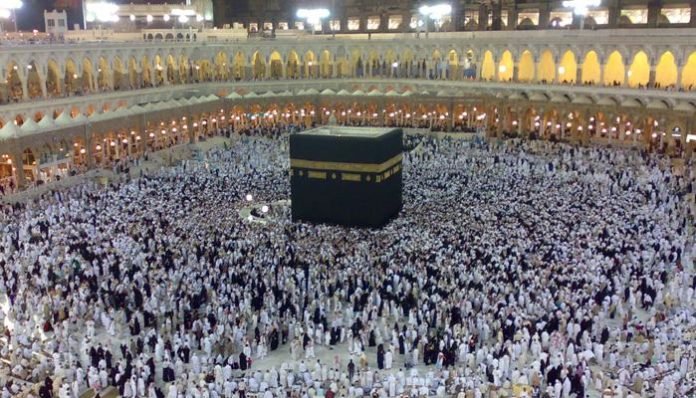 HIGHLIGHTS
Owaisi was referring to the fact that the Saudi government was ahead of the Indian government in changing the rule on women in Haj
Saudi Arabia amended the rule about women being accompanied by a 'mehram', or male caretaker, 3 years ago
The Modi government only allowed this in the second half of 2017
NEW DELHI: AIMIM chief Asaduddin Owaisi said that PM Narendra Modi is "taking credit" for an existing Saudi regulation that allows women over the age of 45 to go to Haj without a close male relative.

Owaisi was referring to the fact that the Saudi government was ahead of the Indian government in changing the rule and letting Muslim women above 45 go to the Haj pilgrimage in groups of four without a 'mehram', or close male relative such as a father, husband, brother or son.
While Saudi Arabia amended this rule three years ago, the Modi government only allowed this in the second half of 2017.
Owaisi's comments came after Modi in his 'Mann ki Baat' address on Sunday said that his government removed the restriction on Muslim women over 45 going to the Haj pilgrimage.
"It is the Saudi Haj authorities that have allowed any Muslim women above 45 years from any country without a 'mehram' to do Haj. It does not behove the PM to take credit for what a foreign government has done," said Owaisi.
Saudi Haj Authority regulations says any women under the age of 45 must be accompanied by a Mehram and this regulation was issued many years ago so any woman over 45 years can go without a mehram but PM has to take credit for an existing Saudi regulation
In his address on Sunday, Modi claimed full credit for the 'no-mehram' rule change. He said when he first heard of the restriction, he was surprised that such a "discriminatory" rule existed.
"Why this discrimination? And when I went in-depth into the matter, I was surprised to find that even after 70 years of our independence, we were the ones who had imposed these restrictions. For decades, injustice was being rendered to Muslim women but there was no discussion on it," he said in his broadcast.
*News Searching By Tims Of India*