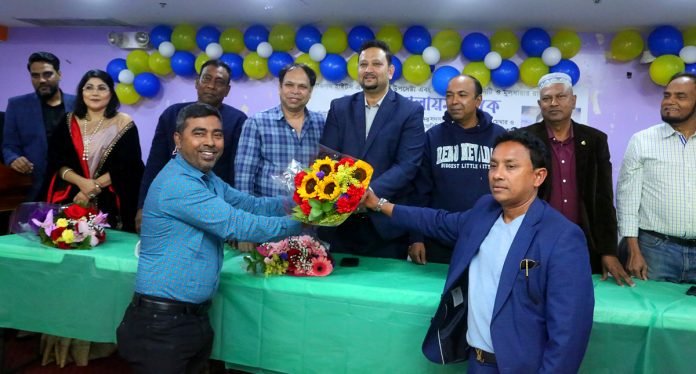 Zahan Ara Dolon: New York City Mayor's Asian Affairs Adviser, Fahad Solaiman, said that the name of 73rd Street in Jackson Heights, New York will soon be changed to "Bangladesh Street". He also said that a Bangladeshi parade will also be organized in Manhattan in the near future.
The correspondent of Ruposhi Bangla from New York said that on September 22, residents of Jackson Heights organized a reception for Fahad Solaiman at Navanna Restaurant.
Fahad Solaiman was honored for his service on Community Board 3 and as a member of the Asian Affairs Advisory Council for the Mayor of New York City.

In his speech at the reception, Fahad Solaiman congratulated everyone and said that as much as I have been rewarded, all of my accomplishments belong to the Bangladeshi community.
Fahad Solaiman urged the Bangladeshi community to work together to get various privileges from the New York mayor's office. He said that we need to play a more important role in making New York City and the United States more prosperous. Our voice must reach mainstream politics. He assured his full cooperation in any work required at the mayor's office.
Shakil Mia presided over the event. A welcome speech was given by Jed Alam Nomi. Bangladesh Society's newly elected Senior Vice President, Mohiuddin Dewan, General Secretary Ruhul Amin, Mir Nijamul Haque, and JBBA President, Harun Bhuiyan, were present on the stage.
Newly elected general secretary of the Jalalabad Association, Moinul Islam, editor of political art magazine 'Anuswar', Shah J Chowdhury, music artist Rizia Parveen, cultural personality Debashish Das Bob, and Dewan Monir were also present on the reception stage.
The speakers wished Fahad Solaiman all success and said that Solaiman would fulfill all his responsibilities and duties entrusted to him for the development of the community, society, and city. He will surely fulfill them with great devotion. This will increase Bengali status in the mainstream.
A meal in honor of Fahad Solaiman was planned for afterward.
---
Album
---