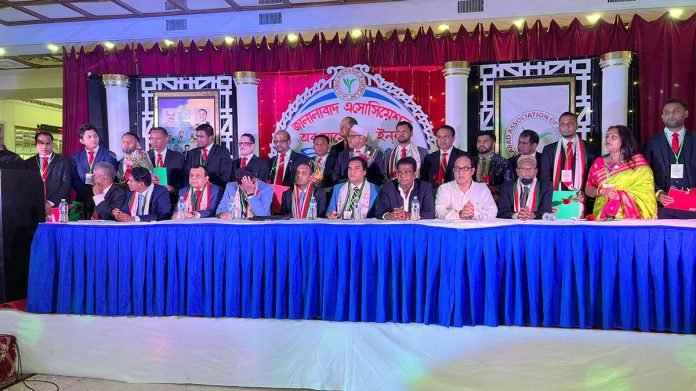 Zahan Ara Dolon, Hindustan Surkhiyan correspondent: The swearing-in and inaugural events for Jalalabad Association America, Inc., took place in New York.
The swearing-in and inauguration occurred on August 29 at a lavish ceremony at Joya Hall in Queens, New York City. The event was hosted by former Jalalabad Association committee president Moinul Haque Chowdhury (Helal). Former general secretary of the committee and director Mizanur Rahman Chowdhury (Shefaz) oversaw the event. Consul General Dr. Monirul Islam was present at the event as the chief guest.

Former Presidents Abdul Basit, Badrun Nahar Khan Mita, Professor Rana Ferdous Chowdhury, Advocate Nasir Uddin, and MM Shaheen were present as special guests, together with Mr. M. Aziz, Chairman of the Bangladesh Society Trustee Board.
Ataur Rahman Salim, the chief electoral commissioner, Azimur Rahman Burhan, the newly elected president, Badrul Hossain Khan, Chhadrun Noor, the advisor for the Jamaica Bangladesh Friends Society, Abdur Rahim Howladar, the acting president of the Bangladesh Society, and Ruhul Amin Siddiqui, the general secretary of the Bangladesh Society, were also in attendance.
In addition to congratulating the newly elected committee, the event's primary guest, Consul General Dr. Monirul Islam Islam, noted how much the Jalalabad Association has contributed to the country's growth and the relief efforts for those affected by the most recent, extremely severe floods. He thanked them and noted that they were serving the nation.
Mr Halim Uddin, Vice President Shaheen Kamal, Vice General Secretary Rokon Hakim, Community Activist Rezaul Karim Chowdhury, President of the Jamaica Friends Society, Fakhrul Islam Delwar, Misbah Ahmad, Former President of the United States Jubo League, Romana Kamal, Former Convener of the Forum Bedarul Islam Babla, Mosharraf Alam, and Sabbir Hossain were a few of the people seated on the dais.
The ceremony's start was declared by Chief Election Commissioner Ataur Rahman Salim. Minhaj Ahmad Sammu was tasked with overseeing the program. President Badrul Hossain Khan received the oath from Chief Election Commissioner Ataur Rahman Salim. The oath was later read to the entire council by the president.
President Badrul Hossain Khan, Vice Presidents Mohammad Lokman Hossain (Sylhet), Shaheen Kamali (Sunamganj), Mohammad Shafi Uddin Talukdar (Habiganj), Bashir Khan (Moulvibazar), General Secretary Moinul Islam, Joint Secretary Rokon Hakim, and Treasurer Mohammad Alim attended the inauguration ceremony.
Additionally, there were Organization and Social Secretary Ifzal Chowdhury, Office and Publicity Secretary Faisal Ahmad, Literary and Cultural Secretary Hossain Ahmad, Sports Secretary Manna Muntasir, Law and International Secretary Burhan Uddin, Social Welfare Secretary Zahid Ahmad Khan, and Women's Affairs Secretary Sutipa Chowdhury.
Additionally, Delwar Hossain Manik (Habiganj), Mizanur Rahman (Moulvibazar), Shaheen Ahmad (Sunamganj), and Halim Uddin (Sylhet) have all had their inaugurations.
---
Album
---