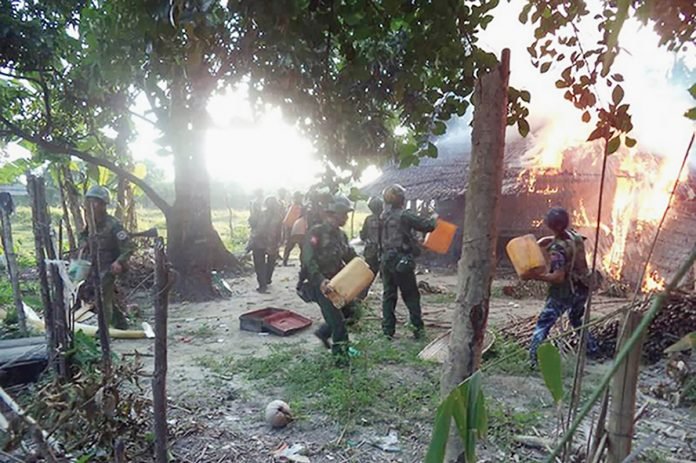 At least one Rohingya youth was killed and five others were injured at a Rohingya camp, near no man's land, in Naikhyangchhari of Bandarban on Friday as Myanmar forces fired shells into Bangladesh.
Mohammad Ikbal, 22, died being hit by a shell, Rohingya leader Dil Mohammad told over phone.

The death was confirmed by Bandarban additional police superintendent Nazim Uddin.
The injured were identified as Sadiya Zannat, 10, Nabi Hossain, 22, Bhulu, 44, and Anas, 12, and Sabekun Nahar, whose age could not be immediately confirmed.
The injured were being treated at the field hospital run by the Medicines Sans Frontiers in Ukhiya.
The shelling incident took place between 8:00pm and 8:30pm along the Myanmar border of Konarpara in Naikhyangchhari.
The shells were fired about eight hours after the repatriation committees of Bangladesh and Myanmar sat in a meeting at about 12:00 noon on Friday on the return of the displaced Rohingyas to their homeland in Myanmar, said an official.
'We have been hearing the sounds of shelling and flying of fighter craft since 07:30pm, ' said a Rohingya from the border area at about 09:45pm.
Border Guard Bangladesh spokesman Lieutenant Colonel Fayzur Rahman in Dhaka said that they had heard about the incident but did have no details right now.
This firing took place after Bangladesh prime minister Sheikh Hasina said that her government did not want war with its neighbours amid repeated violations of the international border and airspace by Myanmar junta forces in recent weeks.
Bangladesh Foreign Affairs Ministry summoned Myanmar's envoy in Dhaka three times and expressed deep concern over mortar shells falling on its territory, indiscriminate aerial firing and airspace violations.
Earlier on September 3, Myanmar military aircraft fired at least two mortar shells into Bangladesh at Tambru in Ghumdhum area of the Naikhyangchhari upazila.
The shells, the Bandarban police chief said, exploded some 120 metres inside Bangladesh territory.
On August 28, two mortar shells landed in Naikhyangchhari but did not explode. The shells were reportedly fired during a heavy fighting between the Arakan Army and the Myanmar military in Myanmar's Rakhine state along the Bangladesh-Myanmar border.
A similar incident happened on August 20.
Dhaka summoned the Myanmar ambassador to Bangladesh and protested at the incidents.
After lodging one of the protests, foreign minister AK Abdul Momen had quoted Myanmar envoy as saying that these were stray incidents as there were clashes inside Myanmar.
Momen said that the Border Guard Bangladesh and other security apparatus were alerted to the fear that persecuted Myanmar citizens might try to enter Bangladesh.
Momen hoped that these would not affect the process of Rohingay repatriation from Bangladesh, already hosting over 1.1 million forcibly displaced people from Myanmar.
Camps in Cox's Bazar district shelter over 10 lakh displaced Rohingya people.