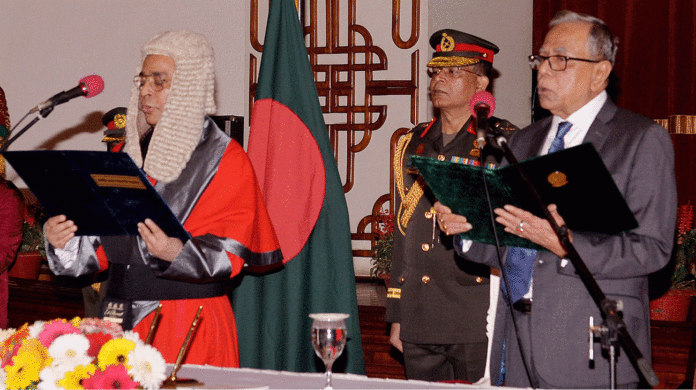 Newly appointed Chief Justice Syed Mahmud Hossain was sworn this evening.
President M Abdul Hamid administered his oath at the Darbar Hall of Bangabhaban, official residence of the president, at 7:00pm, Joynal Abedin, press secretary to the president, told The Daily Star.

Prime Minister Sheikh Hasina, cabinet members, former chief justices, judges of the appellate division of the Supreme Court and judges of the High Court, heads of the three armed forces, Attorney General Mahbubey Alam, Supreme Court lawyers including the SC Bar Association President Advocate Joynul Abedin, SC officials were among others attended the oath taking ceremony, he said.
President appointed Justice Syed Mahmud Hossain as the 22nd chief justice of Bangladesh on February 2 as per section 95 (1) of the constitution.
Justice Mahmud, a senior judge of the Supreme Court, was appointed superseding Justice Md Abdul Wahhab Miah, who had been discharging duties of the chief justice for the last four months.
Later in that day, Justice Wahhab resigned as an apex court judge showing "unavoidable personal reason". He was the senior most judge of the Appellate Division and due to retire on November 10 this year.
Justice Wahhab had been performing functions of the chief justice since October 3 last year when Justice Sinha went on leave on health grounds.
Hindustan Surkhiyan News Desk: