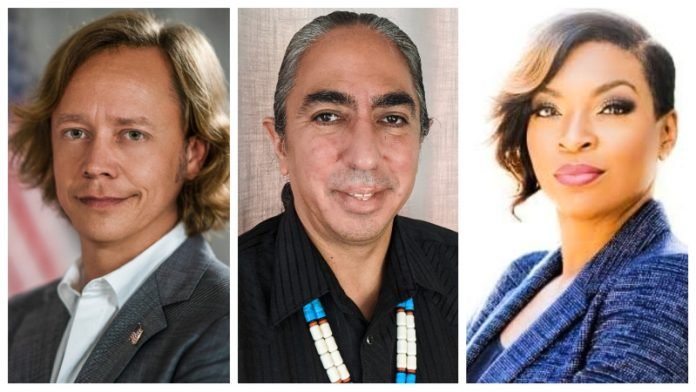 The US has had presidents for more than 230 years, but only the first – George Washington – has ever been elected as an independent candidate.
The twin peaks of US politics, the Republican and Democratic parties, dominate media coverage and campaign donations so completely that the chances of an outsider winning are virtually nil.

Three of them – a concert pianist and motivational speaker, a Native American IT technician, and a crypto billionaire.
Jade Simmons is a multi-hyphenated woman. A former beauty queen, professional concert pianist, motivational speaker, rapper, mother, and ordained pastor.
As she puts it, she is an unconventional candidate, "but these are unconventional times".
She says her goal is to create equal access to opportunity, through economic, educational and criminal justice reform. And in that spirit, she's aiming to run "the least expensive campaign in the history of our nation".
Brock Pierce is a former child actor who appeared in the Mighty Ducks franchise and starred as the president's son in the 1996 comedy First Kid. But thanks to his second career as a tech entrepreneur, he's also probably a crypto currency billionaire.
Why is he running for president? Partly because he is deeply concerned by the state of the country.
"I think that we lack a real vision for the future – I mean, what kind of world do we want to live in, in the year 2030? What is the plan? Where are we trying to get to, you know? You have to aim for something. And I see mostly just a lot of mud being thrown around, not a lot of people putting forth game-changing ideas. It's getting scary. And I have a view of what to do."
One factor that unites independent candidates is that they haven't had to please a party majority to get a platform – so they run as themselves, on the issues that really speak to them personally.
Mark Charles is a prime example.
Professionally he's worked as a computer programmer and in tech support, but he's also an ardent social justice campaigner on issues affecting Native Americans and people of colour.
His goal is to be an alternative candidate for voters who don't feel a kinship with the Trump or Biden tickets.
Mr Charles is of Navajo heritage, an identity which has deeply shaped his candidacy and his view of what America should be.
The land upon which Washington DC was built belonged to the Piscataway people.❐