MP of Narayanganj, AKM Shamim Osman was given a civic reception in New York by the expatriates from Narayanganj. As the chief guest Shamim Osman said, 'Just as you have to tell the truth in journalism, you have to tell the truth in politics.'I tell the truth directly. This is my nature.
Shamim Osman added that, no one in the world is perfect. People makes mistakes. I too am a human. But I have always tried to do something good. I always wanted to get people's love through good deeds.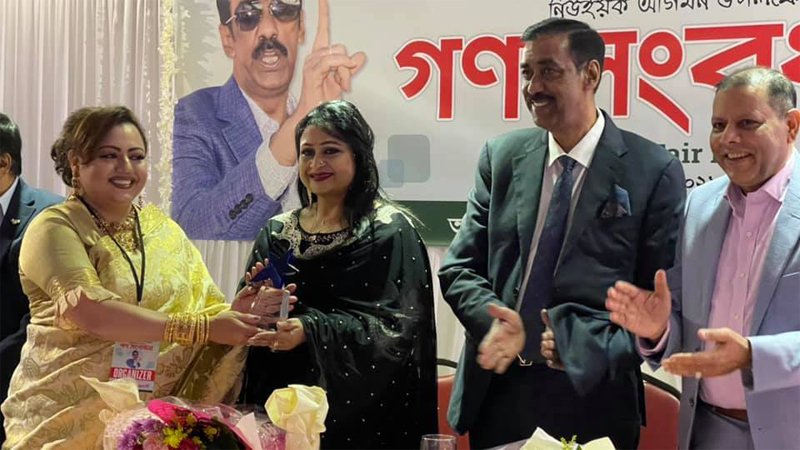 He said to forget the disputes and increase friendship among themselves. Don't fall for who is in which party in politics. Each of the expatriates is an ambassador of Bangladesh. May the image of Bangladesh be brightened through your works.
Shamim Osman said, our new generation is succeeding in exile. Publishing more of such kind of news will create excitement among everyone. If these talented people think about and work for the country, then the situation of the country will be change soon enough.
Recalling the victims of the barbaric bomb attack on the Awami League office at Chashara in Narayanganj on June 16, 2001 Shamim Osman said, I will never forget the deaths of 22 people and the serious injuries of my colleagues including me. Cowardly murderers can kill, never succeeds. We always remember those we lost with deep griefs and respects.
The public reception given to Shamim Osman was presided over by Arshadul Bari Asad, an old friend of Shamim Osman and former president of Narayanganj District Association North America. Moniruzzaman Selim, his old political ally, conducted the event.
Shamim Osman's wife and president of Narayanganj District Women's Organization Salma Osman Lipi, Democrat leader Rehan Reza and Humayun Kabir Tuhin also delivered their speech as special guest on the occasion. Kamrun nesa Ahmed delivered a welcome speech on the occasion. Salma Osman Lipi was given a crest at the civic reception.
In the second part of the program, local New York singers, including Sayera Reza, performed at the cultural event.