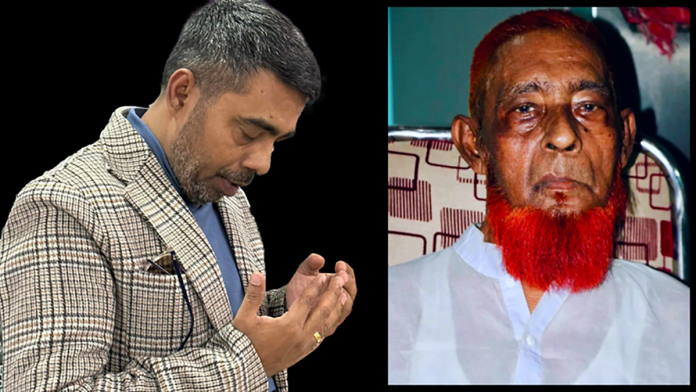 On February 5, Shah J. Choudhury, the chairman of the Shah Foundation, president of the New York-based television channel Bangla Channel, president and editor of Ruposhi Bangla, and a well-known figure in the community, commemorated the fourth anniversary of the passing of his father, freedom fighter Abul Hashem.
Freedom fighter Abul Hashem passed away from a cerebral hemorrhage in the hospital on February 5, 2019, at 2:55 p.m. Bangladesh time. He participated in Sector 2 during the Bangladesh Independence War in 1971. He was buried with full state honors.

Shah J. Choudhury, as always, arranged a special dua mahfil for the day of his father's passing.
Imam Maulana Qazi Qayyum of Mohammadia Center, Jackson Heights, conducted this special prayer ceremony organized at Nabanno Party Hall, Jackson Heights, on February 6. Dignitaries from all levels of the community were present at the event.
Thanking everyone, Shah J. Choudhury stated, "I have lost my revered father on this day." He may have been my refuge when he was alive, but like others, I may not have known that. He was the one who constantly gave me consolation. Those who still have living parents are fortunate. "I'm hoping you'll always put your parents first." He requested prayers for his father and for other deceased parents.
The president of Haque & Sons and freedom fighter AKM Fazlul Haque, activists Moynuzzaman Chowdhury, Helal Khan, Harun Bhuia, Abul Fazal Didarul Islam, Ghiyas Ahmed, the president of Golden Age Home Care, Shah Nawaz, and Azimur Rahman Borhan were present at the event.
The General Secretary of the Jalalabad Association, Moinul Islam, the General Secretary of JBBA, Fahad Solaiman, Kamruzzaman Kamrul, JBBA Vice President Mansoor Chowdhury, Babu Khan, Mohammad Alam Roni, Alamgir Khan Alam, Asif Bari Tutul, Nurul Azim, Sohail Gazi, Mamun Miyaji, Litu Chowdhury, Dr. Touhid Shibli, Biplab Saha, and Bilal Chowdhury were also present at the event.
The President of Jamaica Bangladesh Friends Society, Fakhrul Islam Delwar, J. Mollah Sunny, Mohammad Azad, Mohammad Tolon, Mohammad Shafi, Ahsan Habib, Rezwan Haque, freedom fighter Mohammad Salim, Misbah Majid, Shakil Mia, Mir Nizamul Haque, Zakir Hossain Bachchu, and daughter-in-law Hosneara Choudhury were present at the event.
---