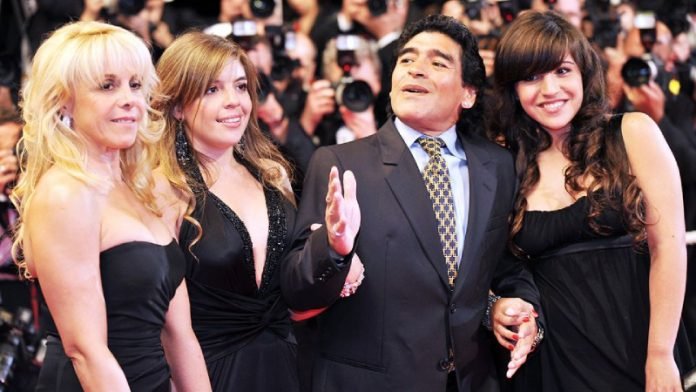 Diego Maradona's former girlfriend has taken a swipe at his ex-wife in an ugly spat after the football legend's death.
Tens of thousands of fans filed past Maradona's coffin on Thursday in ceremonies that mixed head-of-state-like honours with the chaos of a rowdy stadium.

The Argentinian legend died on Wednesday at age 60 after suffering a heart attack.
In an ugly sub-plot to the tragedy, Maradona's former girlfriend Rocio Oliva has broken down in tears while accusing his ex-wife of banning her from a family wake.
Calling the ban a 'disgrace', Oliva claimed to have been left off a list of Maradona's closest family and friends to be allowed inside the Casa Rosada to view his coffin.
Oliva said Maradona's ex-wife Claudia Villafane forced her to queue outside with the rest of the general public.
"I don't know why they're doing this to me. All I wanted to do was say goodbye to Diego," she said.
"I was his last partner. I have as much right as anyone else to say goodbye to him.
"They should think a bit more about Diego who's dead now.
"God sees everything and they are going to pay for this."
Oliva and Maradona were together for six years before they broke up in 2018. The football legend was married to Villafane from 1984 to 2003.
Oliva had earlier paid tribute to Maradona, describing him as "the most important man in her life".
"He was a very important man in my life. He was very good with me," she said.
"We loved each other a lot and I'm always going to remember him in a good way.
"He was humble, charitable and had a giant heart and he really loved life. I have some beautiful memories in my heart.
"He loved me a lot. And that fills my soul."❐
sports yahoo