Zahan Ara Dolon: New York mayoral candidate Eric Adams pledged support for the establishment of the senior citizen center and day care centre at a fundraising event organized by Bangladeshis. He said that, 'I am the mayoral candidate of the Bangladeshis,
I am the mayoral candidate of the Spaniards, I am the mayoral candidate of the South Asians, I am the mayoral candidate of the African Americans, above all I am the mayoral candidate of the New Yorkers'. I won the Democratic primary with everyone's cooperation and votes. It's just a win in the candidate selection phase. The final election will be held on November 2.
Eric Adams said, 'I expect the cooperation and vote of everyone, including Bangladeshis in the election. If I win, I will ensure equal rights for all religions, castes and tribes in New York City.'

The event was held on the afternoon of August 27 at a construction office in Stanway. Organizer Mr. M Aziz raised the demand for Senior Citizen Center and Day Care Center for Bangladeshis. Eric Adams pledged his full support.
The fundraising event was organized by the former President and Chairman of the Board of Trustees of Bangladesh Society, eminent businessman, Mr. M Aziz and eminent real estate businessman Mr. Moinul Islam.
Mainstream politician Misbah Abdin was anchoring the event. Former Councilwomen Kathy Robinson, M Aziz, Faisal Aziz delivered speech on the occasion. Former Brooklyn Planning Commissioner Dhali William, Deputy Queens Borough President Rhonda Binda, New Haque & Sons President Fazlul Haque and Litu Chowdhury, a proprietor of Mum's Restaurant, Bangla Channel President Shah J Chowdhury, Prominent Businessman Bilal Chowdhury, Founder of Street Children Foundation Fauzia J Chowdhury, New York City Police Officer Rashik Malik, Dr. Mohammad Merajul Haque Sohag, Prominent Businessman Vijay Islam, Farhim Aziz, Prominent Businessman Nazimuddin were present on the occasion.
Mayoral candidate Eric Adams said New York City immigrants are much better off as human beings. They have come to America to fulfill their dreams. Came to make children better people. But in the current situation, fulfilling their dreams is becoming difficult.
He said racism has increased in New York. Many Muslim women are victims of hate crime for wearing hijab. Many are hearing 'Go back to your home'. These are nightmares for immigrants. Hate crime has increased in New York City.
'We have spent 11 million in the qualifying round, and we need about 7.2 million for the
November 2 election. This is why we are raising funds. If I am elected, I will ensure equal rights for all,' Adams said.
In his speech, M Aziz spoke about his hard life, struggles and fulfillment of his dreams. 'When I came to America in the 80's, I couldn't find Bengalis, now there are many Bengalis,' he said. But our community is being deprived of rights in many ways. Hopefully you will fulfill those rights. One of them is the Senior Citizen Center and Day Care Center. He said the Bangladeshi community is with Adams and will continue to be in the future.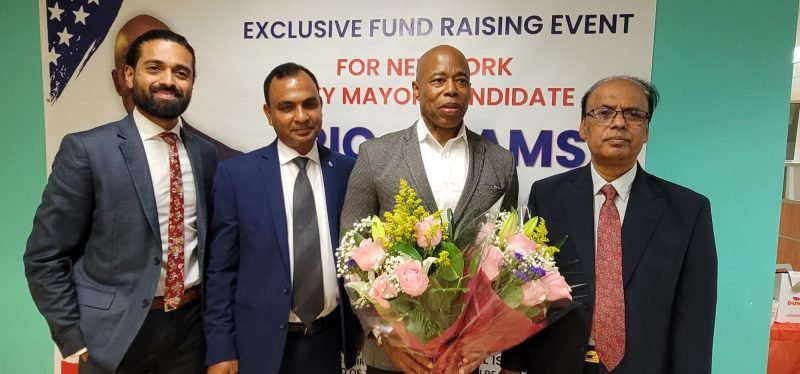 Faisal Aziz said in his speech that the future mayor of New York City Eric Adams is sitting in front of us. He said, 'I have taken the helm of my father's business by studying here and I am by the side of the Bangladeshi community just like my father.' In the past, the Bangladeshi community has not received any cooperation from the city. Hope all our rights will be guaranteed if you are elected. On the occasion, Moinul Islam, Farhim Aziz and Fauzia J Chowdhury greeted Eric Adams with flowers.
ALBUM