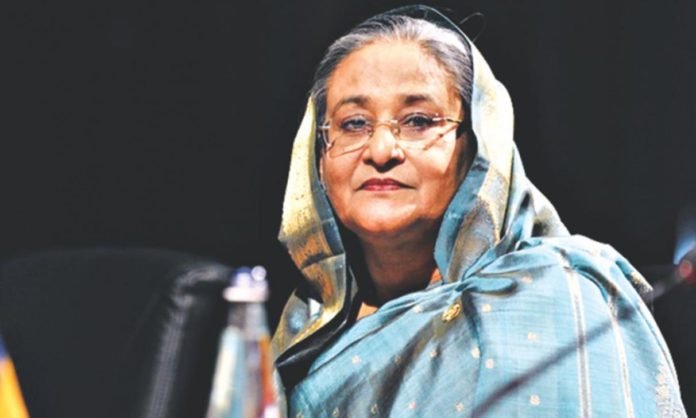 Prime Minister Sheikh Hasina on Tuesday offered fateha at the shrines of Hazrat Shahjalal (RA), Hazrat Shah Paran (RA) and Hazrat Gazi Borhan Uddin (RA) in the city.
The Prime Minister arrived here today to inaugurate different development projects as well as address a public rally.
Sheikh Hasina will inaugurate 14 development projects and lay the foundation stones of 24 others.

Hasina, also the President of Awami League, will address a public rally on Sylhet Government Alia Madrasah ground in the afternoon.
From this rally, she will kick off her election campaign. The 11th general election will be held at the end of this year or at the beginning of the next year.
The development projects Hasina will inaugurate are — a prayer room for women at Hazrat Gazi Borhan Uddin (RA) shrine, beatification of the shrine and extension of its main road up to 2 kilometres, a six-storey academic-cum-administrative building of Sylhet Government College, a building for fertiliser testing and research laboratory at Pirijpur, district office of Department of Narcotics Control, Sylhet divisional and district NSI office building, Sylhet Muktijoddha Complex Bhaban, Zakiganj upazila Muktijoddha Complex Bhaban, a 12-storey Nagar Bhaban of Sylhet City Corporation (SCC), a drainage system at Babuchhara, extension of Jalalbad road, Sylhet-Sunamganj bypass road, overlay works on Moulavibazar-Rajnagar-Fenchuganj-Sylhet road, Rashidpur-Bishwanath-Lamakazi road, Sylhet-Gopalganj-Charkhai-Zakiganj road, Darbasta-Kanaighat-Shahabagh road and Dhaka (Kanchpur)-Bhairab-Jagadishpur-Sayestaganj-Sylhet-Tamabil-Jaflang road (Sylhet-Sherpur point), pavement work at Sherpur toll plaza point on the highway, Sultanpur Union Parishad Complex Bhaban under Zakiganj upazila, Kamalbazar Union Parishad Complex Bhaban under Dakshin Surma Upazila, Kanaighat road and a three-storey primary healthcare centre at Kuituk.
*News Searching By Thedailystar*