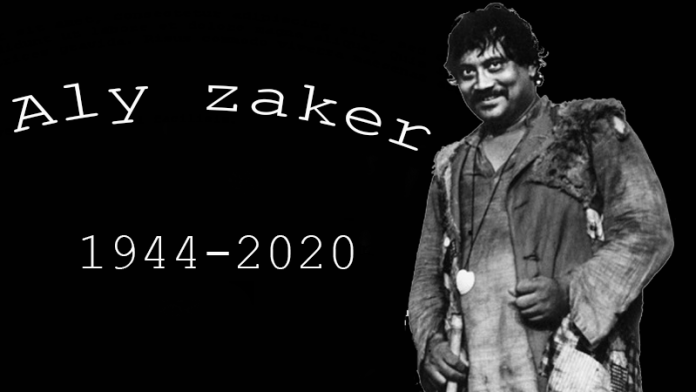 EDITORIAL
---

In the early hours of yesterday, we lost Aly Zaker, an extraordinary actor, valiant freedom fighter, progressive cultural activist, successful businessman, long time columnist of The Daily Star and an icon of Bangladeshi arts and entertainment. After battling cancer for the last four years, the thespian was admitted to the hospital on November 17 for cardiac issues, where he was also being treated for Covid-19 at the time of his demise. We mourn the death of the maestro whose loss will be felt not just by his family and friends but by the nation at large, though he will no doubt live on in people's memories and the vast and diverse body of work he leaves behind.

Aly Zaker mesmerised audiences for almost five decades with numerous memorable performances, from Nuruldin to Galileo, from Dr Asgor to Farid mama, and his remarkable skills, magnetic presence and boundless charisma lit up not just the stage but the small screen and silver screen as well. His troupe, Nagorik Natya Shampraday, was an integral part of developing Bangladesh theatre post-Liberation and brought in a whole new generation of actors on to the stage. He believed in the power of theatre as a tool to challenge oppression and bigotry, and many of the memorable plays he acted in and directed highlighted important social and political issues of the times. For his contribution to Bangladesh theatre, he was awarded with the state award of Ekushey Padak in 1999.
His unfailing belief in a brighter future for Bangladesh was reflected in his insightful columns for this newspaper, many of which focused on how to build the nation through innovative thinking, especially among the youth. While deeply submerged in the world of literature and theatre in which he was regarded a mentor and an icon, he was also very much in touch with contemporary thinking regarding the development of the country. He was a true Renaissance man—not only did he excel at everything he did but he did them with the utmost conviction.
As a freedom fighter and founding trustee of the Liberation War Museum, he also played a really important role in preserving Liberation War history. He always said with great pride that he was honoured to be a part of a fully people-funded museum which upheld the pro-people values of 1971. He believed in a secular, liberal Bangladesh and he was at the forefront of cultural movements that promoted tolerance, equality and democracy. We can only hope that his legacy will guide us towards a future that is every bit as egalitarian and secular as he had dreamt of.❐